Hello fellow film fan,
The change of season is making its presence felt as we usher in our Autumn Subscription of Unlimited In-store Rentals along with a swag of excellent New Releases to be released throughout the season. And we're especially excited to announce the launch of our new Adopt-a-Movie scheme and our refreshed Patron Pack for 2017.
ADOPT-A-MOVIE
Adopt-a-Movie is an opportunity to become the personal sponsor or "parent" of a film in the AroVideo library. We invite you to become part of this scheme to help secure our continued viability as a comprehensive resource for film-lovers nationwide.
You can choose to participate with these options:
New Title (

$35.00

): Adopt a film on DVD that you would like to have added to our rental collection.
Existing title (

$20.00

): Adopt a film or TV show on DVD from any title in our library (that has not yet been adopted).
Replacement title (

$35.00

): Adopt a film on DVD that will replace the VHS tape copy in our rental collection. Browse some examples we've so far put up for "Adoption".
Donated title: Donate a film on DVD to add to our rental collection.
For your support, you will enjoy a free rental of the film anytime, and for all time. You'll receive an official certificate inducting you into the AroVideo Library Expansion & Preservation Society (AVLEPS!). You'll have your name (or pseudonym) credited on the film's display case and/or its web page on our website (optional).
And there's the satisfaction of knowing that other members will enjoy your selection as much as you might appreciate theirs. Browse our list of already Adopted Movies, or click through for more details about Adopt-a-Movie.
--
BECOME AN AROVIDEO PATRON FOR 2017

Choosing a film for Adopt-a-Movie also comes as part of our new Patron Pack (now $100) and is included in the price. 
As a Friend of AroVideo, you'll receive our exclusive carrybag in a stylish new black & white edition, a Double Pass to the luxury Roxy Cinema, a 650ml bottle of Garage Project Aro Noir stout, a heavenly Double Pizza from Hell Pizza, and a Patron certificate, as well as enjoy "friend" prices on our subscriptions and 10-trip cards. Click on the banner for more details...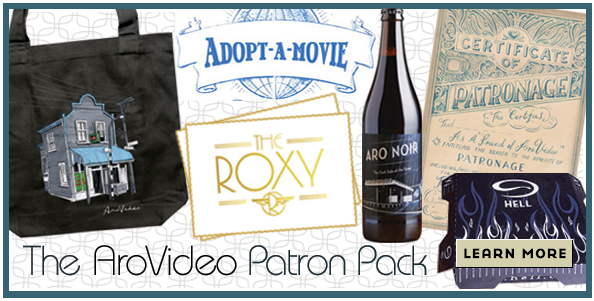 We are also hosting a special event for Patrons at the Roxy Cinema on Wednesday, the 19th of April, for a preview screening of a deliciously offbeat new science-fiction film!
--
AUTUMN & ANNUAL SUBSCRIPTIONS

If you're a Wellington resident, you might like to consider our Autumn Subscription of Unlimited Rentals, which is now available and valid until the end of June 2017, or best value of all is our Annual Subscription offering Unlimited Rentals for a full 12 months from the date of purchase.
Click on the banner below to explore the subscription options available.